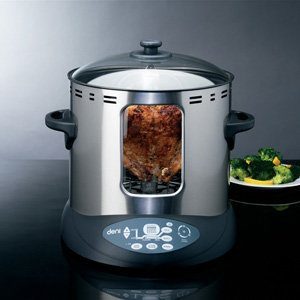 Healthy cooking indoors does not have to be a challenge. All the meat some of us eat come with a lot of fat. With the right cooking tools, you will be able to cook your chicken, turkey, fish, and kebabs without having to worry about their fat. The Deni Vertical Rotisserie Oven is just the product to help you with that. The oven can hold up to a 5 lbs chicken and 8 lbs roast.
The Deni Vertical Rotisserie Oven has a glass lid and front so you can watch your food while it is cooking. It will cook your products 20% faster than a conventional oven.
Disclaimer: *Our articles may contain affiliate links. Please read our disclaimer on how we fund this site. As an Amazon Associate, we earn from qualifying purchases.