There are plenty of boring PC cases available on the market. Building your own custom PC with a modified case can be lots of fun though. These 20+ computer cases and mods may give you a few ideas:
More gadgets like this:
here
Wheel Of the Stars PC: a unique case mod from Modder CROW. It borrows design elements from amusement parks and ancient clocks.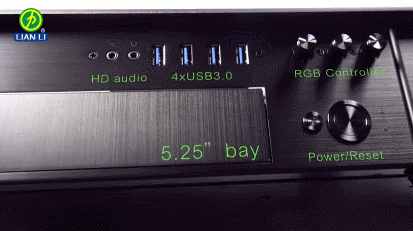 LIAN LI DK-04 Computer Desk Chassis: a desk chassis that can house a powerful machine. You can adjust its height and add up to 10 hard drives.
Caged Heart PC: this is a computer with a beating heart. The articulating heart beats with CPU usage.
Star Wars Venator Class Star Destroyer PC: has 3D printed and aluminum parts. Sander van der Velden put an an Intel Core i5 6600K processor, a MSI B150M Morta board, 32 GB RAM, a Thermaltake ToughPower PSU, and liquid cooling inside this. Light control is achieved via Arduino.
Star Wars TIE Fighter Gaming PC: this water-cooled gaming PC took months to build. One of the best Star Wars inspired PC cases we have seen.
Stargate Pyramid PC: this case has moving panel, lights, and a LCD screen. It is inspired by the original Stargate movie.
Millennium Falcon Gaming PC: another custom PC for Star Wars fans. It comes with an Intel CPU, 16 GB of RAM, and 500GB inside.
Xenomorph PC Case: should prove attractive to the fans of Alien franchise. It has a working attack tongue and a head you can lift to access the components inside.
USS Dragon-1 Star Trek Case: Stefan from RandomDesign is behind this cool case. It features a fiberglass body and illuminated water cooling.
Apocalypse Dragon PC Mod: TriHexa 666 is really a piece of art, made from vehicle parts and scrap metal.
L3p D3sk Liquid Cooled PC: this desk houses a PC with an Intel i7 6950X 10-core processor, NVIDIA Titan X GPU, 64 GB 3600 Mhz RAM, ASUS Rampage V Edition 10 mother board, and Corsair HX1000i cooling system.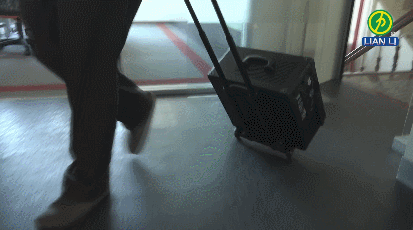 LIAN LI PC-TU300: a PC case that lets you carry your computer with you like a piece of luggage. It has space for multiple hard drives and 300mm video cards.
Project Evolution Gaming Chair PC: comes with everything you need to play games, including a monitor holder, gaming chair, and pedal mount for racing games.
Nanoxia PC: a dual-CPU, GPU desk PC capable of handling your favorite games and apps. It looks quite stunning in a dark room.
Thermaltake Core P1: a 3D printed Mini ITX chassis that you can build and customize to your heart's content. It is made with PLA materials.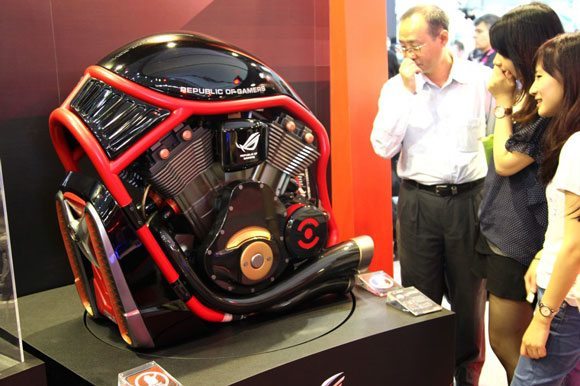 ROG Hog Case Mod: a custom case that should prove attractive to fans of cars and bikes. It has an Intel Extreme processor inside with plenty of power.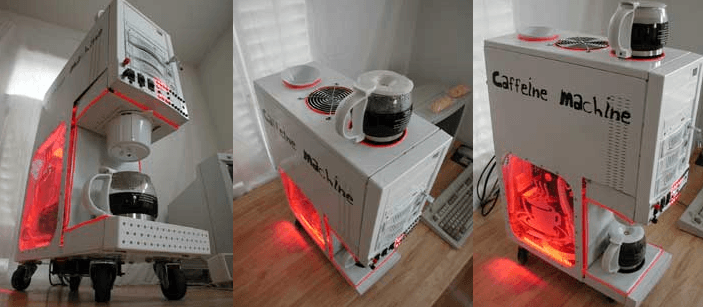 Coffee Maker PC: a PC case with a built-in coffeemaker, so you can play and get your caffeine when needed faster.
Core P3 RGB Case Mod: this colorful case was made using Asus Aura lighting, a Thermaltake P3 case, and Thermaltake watercooling parts.
**Disclaimer: Our posts may feature aff links. As an Amazon Associate, we earn from qualifying purchases. Please read our disclaimer on how we fund this site.