Finally got my Robosen T9 Transformer Robot ► Gadgetify
RC toys have become more sophisticated over the years. There are now plenty of remote controlled cars, planes, trains, and other gadgets for you to play with. Here are 30+ RC vehicles and gadgets you don't want to miss:
Ganker EX: a smart battle robot with man-machine sync technology that can mimic your actions and move in all directions. It is app controlled and has an electronic gaming system. Ganker EX has 0.09sec/60-degree servo motors for smooth motion.
DC Comics Justice League Smart Batmobile: a smartphone controlled toy for Batman fans. It has a 6″ Batman figure that turns the wheels, rotating weapons, tilting cannon, and lights. The camera in the cockpit captures video from the driver's POV.
Wedico CAT 345 D RC Excavator: a 1:14.5 scale vehicle ready to take on tough tasks. It features 9.45″ tracks and measures 31.5″ long, 30.9″ wide.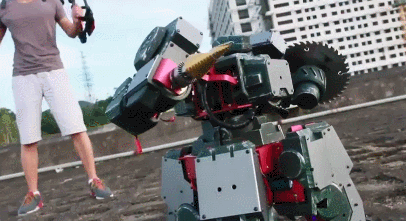 Archer-G Battle Robot: a robotic fighter that can be remote controlled with the Wild Flower exoskeleton. Its smart motion capture controller let the robot mimic your moves.
E-Revo Racing Monster Truck: this RC truck has a max speed of over 70mph. It comes with all-terrain tires and powerful motor.
Remote Controlled Abrams Tank: replicates details of the military's M1A2 Abrams. You can move the tank in all directions and give it a 360-degree spin. The tank can fire plastic pellets at targets.
Star Wars RC Tie Fighter: has a crash resistant structure, ducted propellers, and a flying range of 250 feet. You also get a 2.4GHz controller.
HENES Broon F830 Ride On Car: a fun car for your kids with working doors, hood, trunk, and two 12v batteries. It can go as fast as 6mph.
Kyosho Blizzard RC Snow Plow: can be controlled from a smartphone or tablet. It has an on-board camera and lets you raise/lower the plow blade and record video remotely.
3D Printed Snow Blower: a robotic snow blower with 3D printed components. It has aluminum tracks, waterproof servos, and batteries.
Remote Controlled DSLR Camera Robot: lets you perform inspection and capture wildlife photos easily. The robot has a water resistant shell.
Dark Knight App Controlled Tumbler: comes with 11 light-up LEDs in the cockpit, sound effects, and a 480p night vision camera. You also get a moving spoiler and cockpit door that you can control from your phone.
Wall-Climbing Transformable Robot: a wall-climbing sports car that transforms into a robot with the push of a button. It stands 3″ tall in robot mode.
Transformania Electric Robot Ride-on Car: a larger transforming robot car your kids can ride. It can turn and spin 360 degrees. Supports kids up to 65lbs.
BMW i8 for Kids: a beautiful car for kids with remote control. It has real engine sounds, headlights, and speakers. It has a max speed of kph.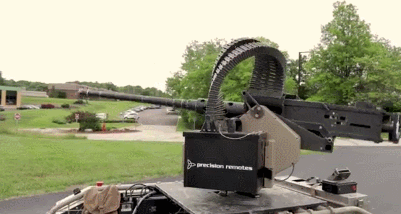 W-MUTT: a combat robot with wireless remote control. It can carry 600lbs of load.
9ft Metal Megatron Robot: this is made from recycled metal and auto parts. You can remote control its arms.
Nano Falcon Heli Carrier: an RC truck with a helicopter inside. You can fly the helicopter with the flip of a switch.
Ultimate Lightning McQueen from Sphero: an app smart interactive race car with iOS/Android support. It has animated eyes, an animatronic mouth, and emotive suspension.
RC Tissue Box Japanese Police Car: this tissue box is modeled after a Japanese police car. You also get a simple remote to move the car around your place.
Steampunk Nerf N-Strike Elite TerraScout: has live video feed and remote control. The tank comes with a 18-dart clip and can turn 360 degrees. It goes as fast as 215 feet per minute.
CHERI: a remote controlled robot for attic inspection. It can get around obstacles and operate in narrow, dark spaces.
6WD Remote Controlled Snow Plow Robot: it comes with a rigid 3/16″ thick aluminum frame with a 48″ cycle country plow. The machine also has 13″ tiller wheels, two 2 x 135 RPM wheel chair motors connected to the axles, a Sabertooth 2×60 motor controller, and a DX6i Spektrum remote control.
Remote Control Lawn Mower: mowing the lawn is not fun. This robot can do it for you when you spend time indoors. It is driven by heavy duty IG52 motors.
RC LEGO Monowheel: a motorized, steerable LEGO monowheel with a remote control. It is driven with 2 Power Functions M Motors.
Twitchy Kitty Cat Ears: great for Halloween and other occasions. It lets you control the ears with a remote control to express your emotions.
ROVR: a remote operated vineyard robot with VR control. It allows operators to interact with the robot from anywhere.
RC ATV Robot: has a mannequin with movable head. It has LED eyes too. You can remote control this indoors or outside.
Humanoid Robot with LEGO Exoskeleton Controller: a cute little robot that is controlled with a wearable exoskeleton.
Losi Night 1/10 4WD Rock Crawler: an RC vehicle ready to take on rough terrain. It comes with lights for night rides.
Redcat Racing Rampage Dune Runner: a 1:5 RC buggy with a 30cc HY gasoline engine, lightweight aluminum alloy chassis, Vertex transmission, and Redcat DSM-2C 2.4GHz transmitter.
Pro Boat Zelos 36-Inch Catamaran: a brushless electric RC boat with twin 2000Kv motors. It has waterproof electronics inside. It reaches max speed of 60mph.
E-Flite Apprentice S 15e: an electric RC airplane with Phoenix RC 5 flight simulator. It has a Z-foam construction with 840Kv brushless motor.
MINDS-i 2-in-1 Super Rover: comes with motors, tires, steering hub, battery, and everything you need to build an Arduino Rocket Launcher.
Doctor Who K-9 Mark II: a remote controlled robot dog for Doctor Who fans. It features 360-degree movement and automated ears.
Have you found cooler RC vehicles and toys? Please share them here.
**Disclaimer: Our posts may feature aff links. As an Amazon Associate, we earn from qualifying purchases. Please read our disclaimer on how we fund this site.