Star Wars Levitating Millennium Falcon Bluetooth Speaker
8 AMAZING GEEKY SPEAKERS THAT WILL MESMERIZE YOU! 😍
There are plenty of boring speakers on the market that can play your favorite music but offer nothing more. These geeky speakers not only play your tunes but also make your place look cooler:
Iron Man MK64 Bluetooth Speaker: delivers rich sound and puts on a show with its LEDs. It also has a USB port to charge your smartphone.
Millennium Falcon Bluetooth Speaker: a highly detailed model of Millennium Falcon with a speaker built-in. It also lets you take and answer calls.
Iron Man Mk44 Hulkbuster Helmet Speaker: a gorgeous Iron Man speaker with a powerful subwoofer, USB power output port, LEDs, and 3.5mm audio in. It can charge your phone too.
Bumblebee Bluetooth Speaker: another cool gift idea for Transformers fans. It measures 18.5 x 20 x 23.5 cm.
Stormtrooper Bluetooth Speaker: a space saving gorgeous speaker with Bluetooth music streaming. A Darth Vader version is also available.
Angry Birds Speaker: a cute 30W speaker with bass control. It works with all your favorite music players. Multiple bird designs are available.
Iron Man Mark 43 Bust Speaker: a high-end bronze statue style speaker system that works with your favorite laptops and mobile devices. It comes with a 82mm woofer (2 x 40mm speakers).
Camino Transformers Last Knight Megatron Speaker: measuring 129 x 155 x 179 mm, this mini speaker connects to your smartphone via Bluetooth. It supports 3.5mm audio connections too.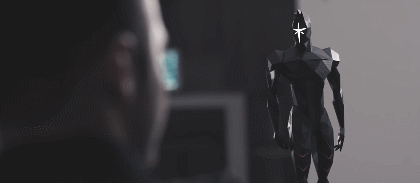 AD'OM Premium: a humanoid Bluetooth speaker with lights and smoke machine. It acts as a charging dock for your phone.
Halo Masterchief Bluetooth Speaker: comes with Masterchief sound. It has eyes that light up when switched on. You can pair two of these for a stereo sound effect.
Thor Hammer Wireless Bluetooth Speaker: a 1:2 scale speaker that lights up with your music. It has a built-in speakerphone.
Death Trooper Helmet Speaker: a wonderful speaker for Star Wars fans with LED lights and deep sound. It has a USB port to charge your gadgets.
Terminator T-800 Speaker: a beautiful multimedia speaker for Terminator fans. It stands 18 inches tall and has a high-definition camera in one of its eyes. It has Amazon Alexa built-in.
Darth Vader 1:1 Bluetooth Speaker: this Star Wars speaker comes with a powerful subwoofer to deliver rich audio. It works with your favorite Bluetooth smartphone devices.
Rogue One K-2SO Helmet Speaker: a 70mm Bluetooth speaker compatible with computers, laptops, and smartphones.
Camino Star Wars EP 7 Stormtrooper Head Bluetooth Speaker: comes with 82mm woofer and 40mm speakers. It has LED lights and a USB port to charge your gadgets.
Transformers Last Knight Optimus Prime Bluetooth Speaker: a 70mm speaker with 120 Hz ~ 16KHz frequency. It has Bluetooth and 3.5mm audio in options.
X-Wing Bluetooth Speaker: another Star Wars Bluetooth speaker with rechargeable battery and speakerphone functionality. It has a Bluetooth range of 33 feet.
C-3PO Bluetooth Speaker: an officially licensed speaker with rechargeable battery and light up eyes.
Batman Spotlight Tower Speaker: not only plays your music but also has an illuminated bat signal.
Star Trek TNG U.S.S. Enterprise NCC-1701-D Bluetooth Speaker: this geeky speaker has a noise emulator, LEDs, and sound effects. It has a 45mm full range speaker and connects to your phone via Bluetooth.
$15,000 Radial Aircraft Engine Speakers: these are inspired by early 20th-century radial aircraft engines. They are made from 6082 aluminum alloy with chrome and 24k gold plated enclosures.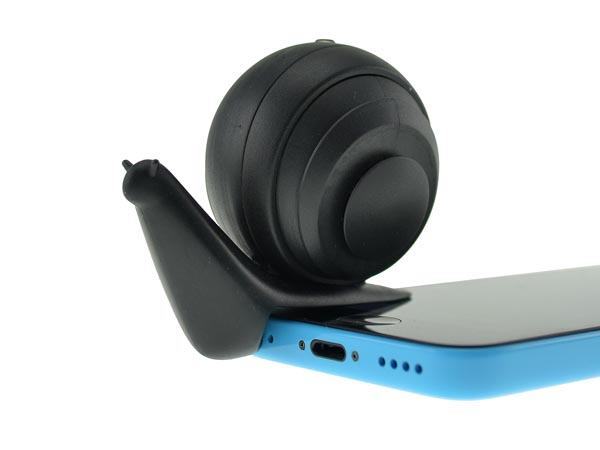 Snail Speaker: a cute speaker for your smartphones that sits on your device like a snail and enhances the audio coming out of it.
hellosy Death Star Levitating Speaker: this beautiful speaker has built-in lights and a 360-degree rotating speaker. You can interact with it from your smartphone or tablet.
Levitating Pokemon Speaker: plays your music as it floats in the air. It lasts up to 7 hours on battery. It can play music from a SD card too.
Cobra Dancing Cat: a robotic speaker that puts on a dance show to your music. Simply connect it to an audio source to get started.
Dancing Groot Speaker: another officially licensed speaker that dances to your favorite tones. It has a microphone for hands-free calling.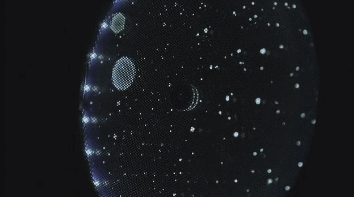 Cosmos Constellation Clock: whether you are an astronomy enthusiast or just want an ubercool speaker, you should give this one a look. Cosmos has a full map of the northern hemisphere's constellations with two stars to tell the time in addition to a Bluetooth speaker.
Captain America Shield Bluetooth Speaker: another speaker for fans of the Marvel Universe. Its star lights up when you use the speaker. You can also use it as a speakerphone.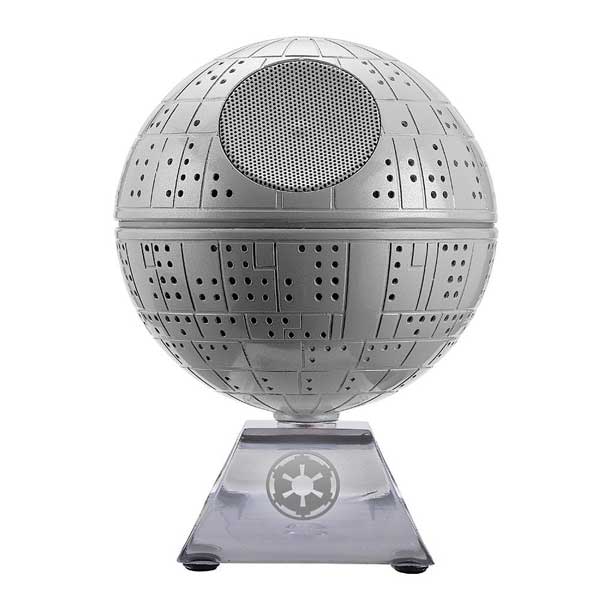 Death Star Bluetooth Speaker Li-B18.FX: a light-up Death Star with Bluetooth streaming from iHome. It has an internal rechargeable battery.
Star-Lord Electronic Helmet: a full scale Star-Lord electronic helmet with 2 LED eyes and sound effects. It has built-in Bluetooth speakers.
SQWEEKS Mini Speaker: another cute Bluetooth Speaker for Transformers fans.
Stay tuned as we will cover more geeky speakers here in the future.
**Disclaimer: Our posts may feature aff links. As an Amazon Associate, we earn from qualifying purchases. Please read our disclaimer on how we fund this site.