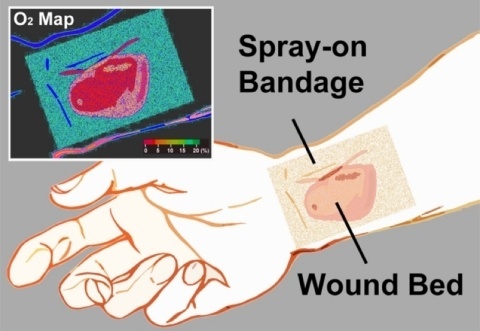 Here is a smart bandage that glows to indicate a wound's tissue oxygenation concentration. This transparent liquid bandage displays a quantitative, oxygenation-sensitive color-map that you can capture using a camera or smartphone. The solution provides a noninvasive measurement of tissue oxygenation by:
"combining three simple, compact and inexpensive components: a bright sensor molecule with a long phosphorescence lifetime and appropriate dynamic range; a bandage material compatible with the sensor molecule that conforms to the skin's surface to form an airtight seal; and an imaging device capable of capturing the oxygen-dependent signals from the bandage with high signal-to-noise ratio."
The bandage can be applied by painting it onto the skin's surface and dries within a minute. Once the first layer is dried, a transparent layer is applied over that. It slows the rate of oxygen exchange between the bandage and the air. You will just need a camera-based device to gather the information you need.
An international team of researchers led by Assistant Professor Conor L. Evans at the Wellman Center for Photomedicine of Massachusetts General Hospital (MGH) and Harvard Medical School (HMS) is behind this cool idea. The technology certainly sounds exciting. Don't forget to read the paper "Non-invasive transdermal two-dimensional mapping of cutaneous oxygenation with a rapid-drying liquid bandage" to learn more.
Disclaimer: *Our articles may contain affiliate links. Please read our disclaimer on how we fund this site. As an Amazon Associate, we earn from qualifying purchases.