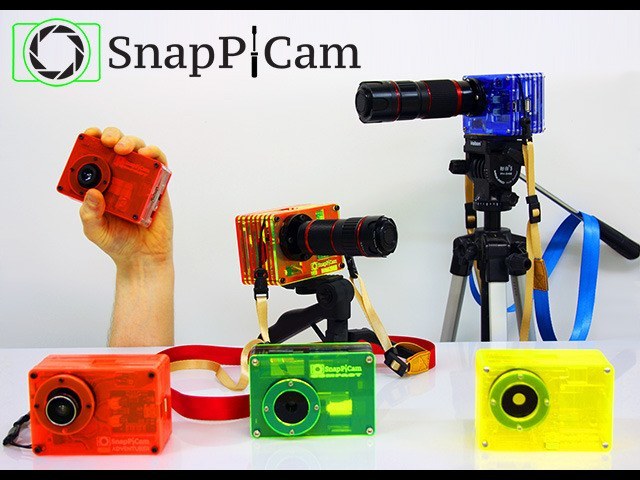 There is no question you can do all kinds of neat things with a Raspberry Pi. The SnapPiCam happens to be an interesting product for DIY Raspberry Pi ninjas. It helps you create your digital camera at home. Your SnapPiCam will have a Raspberry Pi 5 Mega-Pixel camera board and a Raspberry Pi Model A. These cameras are powered by LiPo batteries and have an on-board LiPo charger.
The developer is offering this kit in 4 versions. The Adventurer and MegaZoom models have an I²C LiPo Fuel Gauge, so you can keep an eye on the battery level. The SnapPiCam is designed to work with various magnetic lenses. The MegaZoom+, which happens the most advanced kit, offers:
5 Mega-Pixel Camera
Raspberry Pi
2.8″ LCD With Touch-screen & Tactile Buttons
i2c LiPo Fuel Gauge
Logic Level Shifter
Advanced 120mAh – 1000mAh LiPo Charger
Tripod support
Anodized aluminum lens attachment ring
2x Zoom Magnetic Telephoto Lens
6x-18x Variable MegaZoom Lens with manual focus
More goodies
You can get it for as low as £209, but you have to support the project early on Kickstarter. How cool are these?
Disclaimer: *Our articles may contain affiliate links. Please read our disclaimer on how we fund this site. As an Amazon Associate, we earn from qualifying purchases.