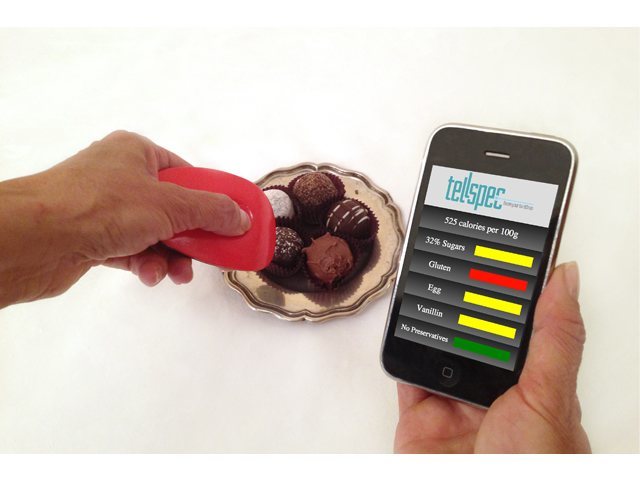 Counting calories is one of the best ways to get your diet on track and lose weight. Not all of us do a good job with that. You need the right tools to keep track of your calorie intake each day. TellSpec can help. It is a handy device that tells you what's in your food. All you have to do is point the device to your food, and the tool does the rest for you. It has a spectrometer scanner that pairs with its cloud-based algorithm to to scan your food. It tells you about allergens, chemicals, nutrients, calories, and ingredients in your food.
You may also want to see:
TellSpec will warn you when a food contains allergens such as gluten or egg, so it is great for those of you on a gluten free diet. It tracks your calorie intake and helps you get your diet on the right track. The device even tracks your intake of vitamins and minerals. Here is how it works:
When you beam the low-powered laser in the TellSpec scanner at the food, some of the photons are absorbed, raising the energy states of the molecules in the food. Lower energy photons are then reflected back. The spectrometer inside the TellSpec scanner sorts these photons by wavelength and counts them …. spectrum is uploaded to [an] analysis engine where it is analyzed and correlated with other reference spectra. Information about the allergens, chemicals, nutrients, calories, and ingredients in the food is then downloaded to you and displayed on your smart phone.
TellSpec sounds like an amazing tool for people who want to lose weight and adopt the right type of diet. This Bluetooth 4.0 device is compatible with iOS and Android. Like it? Get it here.
Disclaimer: *Our articles may contain affiliate links. Please read our disclaimer on how we fund this site. As an Amazon Associate, we earn from qualifying purchases.