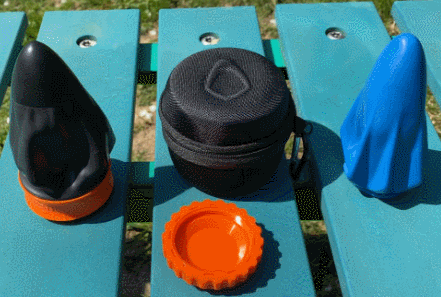 Meet the Pocket Shot: a slingshot with a circular design that lets you reload and shoot a wide variety of projectiles faster than a regular slingshot. It is compact enough to easily fit in your pocket, so you can take it with you anywhere. The good folks behind it were kind enough to give us a kit to review. Our Pocket Shot kit came with a black pouch, a Pro pouch, steel balls, a carrying case, and a speed loader.
The learning curve for the Pocket Shot is pretty short, so even beginners can get started fast. You can easily replace the pouches using the cap. While you can shoot 1/4 inch up to 5/16 inch steel balls, plastic or biodegradable clay balls are much safer for practice. The Speed Loader is pretty neat as it lets you carry and load 19 steel balls quickly. While the standard pouch is powerful, the Pro pouch has a longer draw length and lasts longer.
We tried the Pocket Shot to shoot at a bunch of bottles and boxes. You will have to be careful if you are planning to use it in your backyard as you can easily hit other people's property by accident. To be safe, we did the majority of our tests with clay balls. They disintegrate upon impact, so you can draw and shoot with full force.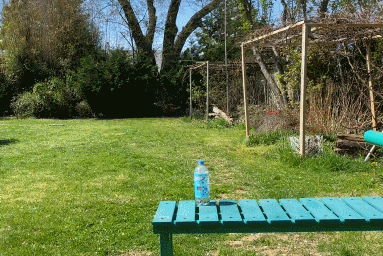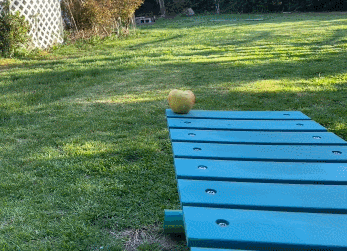 The Pocket Shot has inner and outer rings made of polycarbonate. To separate them, you simply have to use the cap and apply gentle pressure to unscrew the outer ring. Both pouches are more than capable of shooting balls at high speeds (up to 350ft). While we found the Pocket Shot easy to put together and use, it took us a bit of time to learn how to aim better, which is completely natural.
Steel balls can do a lot of damage against bottles, fruits, and everything in between. As you can see in the below video, even clay balls can put a hole or two in a fairly thick box. The steel ammo can be quite hard to find on grass but the good news is you can buy plenty of them for cheap on Pocket Shot's website. You can also buy a handle, shooting targets, and other accessories to take your experience to the next level.
The Pocket Shot may look like a toy but looks can be deceiving. You shouldn't aim it at pets, humans, or anything that you don't want to break. In fact, you may want to use safety glasses to protect yourself against ricochets. We found the Pocket Shot a lot of fun to play with. In fact, it is quite addictive and stress relieving. When you are ready to take your game to the next level, you can get a Pocket Hammer handle for more stability and power.
Disclaimer: *Our articles may contain affiliate links. Please read our disclaimer on how we fund this site. As an Amazon Associate, we earn from qualifying purchases.