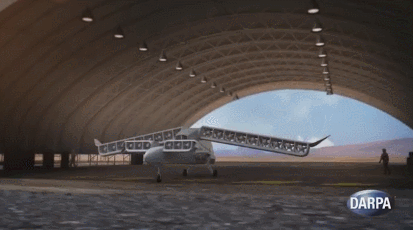 Aircraft designers have been working on improving vertical takeoff and landing for many years. DARPA's VTOL X-Plane program aims to develop a technology to achieve a higher flight speed and hover efficiency:
Currently Trending Geeky Gadgets
Aurora's Phase 2 design for VTOL X-Plane envisions an unmanned aircraft with two large rear wings and two smaller front canards—short winglets mounted near the nose of the aircraft. A turboshaft engine—one used in V-22 Osprey tiltrotor aircraft—mounted in the fuselage would provide 3 megawatts (4,000 horsepower) of electrical power, the equivalent of an average commercial wind turbine. The engine would drive 24 ducted fans, nine integrated into each wing and three inside each canard. Both the wings and the canards would rotate to direct fan thrust as needed: rearward for forward flight, downward for hovering and at angles during transition between the two.

The goal is to build an aircraft that could fly fast and go far but hover when needed to attempt complex missions. Phase 2 has modular aerodynamic wings and a maneuverable, efficient design. It is worth nothing that this plane won't be in volume production for years.
[Source]
Disclaimer: *Our articles may contain affiliate links. Please read our disclaimer on how we fund this site. As an Amazon Associate, we earn from qualifying purchases.