The Alien franchise has millions of fans around the world. Chances are you have a few of them among your family members and friends. Here are 20+ gift ideas fans of the alien franchise shouldn't miss:
Xenomorph PC Case Mod: a geeky computer case with a working attack tongue. It is made of fiberglass fabric with epoxy resin.
Recycled Metal Alien Xenomorph Table: made from recycled metal and auto parts. It comes with a glass top and stools.
Glow in the Dark Alien Pendant Necklace: has a beautiful orb that glows in the dark. Available in various colors.
Sterling Silver Xenomorph Ring: a handmade sterling silver ring with a xenomorph head. It can be customized with your own favorite gemstones.
Alien Xenomorph Necklace: a beautiful handmade necklace that puts a tiny xenomorph on your chest.
3D Xenomorph Metal Art Table: comes with beautiful details, LED backlighting, and 2 x 3D alien heads.
Xenomorph Flash Drive: looking for a flash drive that turns heads? This one is worth a look. It has the body of a xenomorph and enough space for your photos, documents, and movies.
Recycled Metal Xenomorph Lamp: another awesome piece for your man cave. It is made from recycled metal and auto parts.
Xenomorph Wood Burner: made of old gas cylinders. Its teeth on the bottom jaw are made from an old Land Rover spring.
Motion Activated Xenomorph Storage Egg: the name is pretty self-explanatory. It holds your things and opens when motion is detected. Its LED light serves as a room lamp.
8-Foot Tall Xenomorph Sculpture: this piece of art is made from car and bike parts. It has stunning details and weighs 250kg.
Xenomorph Brass Knuckle Ring: this handmade tool transforms into brass knuckles to get you out of trouble.
Life-size Knit Alien Facehugger: another cool gift idea for Alien fans. It is large enough to hug your face but has a soft texture.
Swimming Alien Horror Prop: so you would like to display a large swimming alien in your man cave? This 16ft piece has you covered.
Plush Wearable Xenomorph Tail: completes your costume for geeky cosplay events. These are made of fleece and stuffed with soft polyfill.
Crochet life-sized Alien Facehugger: you can wear it on your back or around your face. It comes completely stuffed or with latchable legs.
Hissing Xenomorph Bust: has a pop-out inner mandible head with hissing sound that you can activate with the push of a button.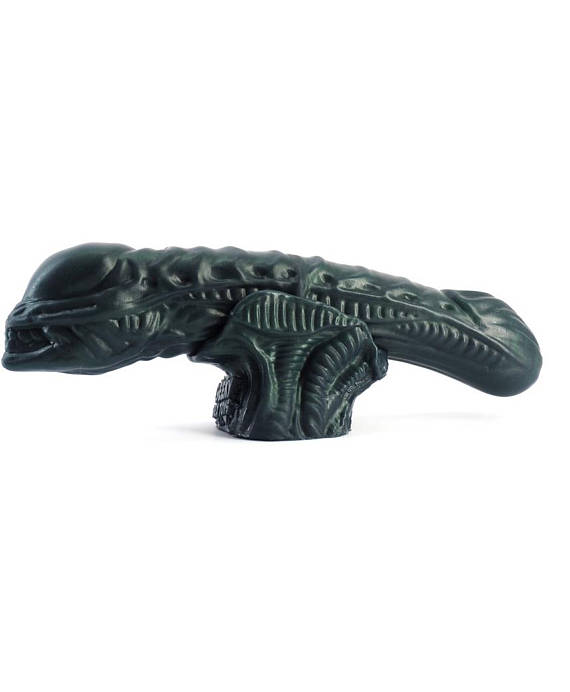 Xenodong: we have covered a bunch of geeky sex toys here in the past. This is a double dildo with a xenomorph head. It has a 100% body safe silicone construction.
Xenomorph Guitar: a hand customized guitar with a resin and epoxy putty sculpted Xenomorph head. The lower horn forms the bottom jaw and teeth.
Xenomorph Clasp Paracord Bracelet: a cool 550lb paracord bracelet with a Alien Xenomorph clasp. It is available in various sizes and colors.
Alien Cooke Jar: a detailed ceramic cookie jar modeled after a Xenomorph. It stands 12″ tall.
Have you found cooler gift ideas for Alien Xenomorph fans? Please share them here.
**Disclaimer: Our posts may feature aff links. As an Amazon Associate, we earn from qualifying purchases. Please read our disclaimer on how we fund this site.