PAC-MAN should not need any introduction. Plenty of products are inspired by the game. Here are 30+ cool PAC-MAN gadgets and gizmos you can buy today:
PAC-MAN Ankle Length Leggings: sexy polyester and spandex leggings that keep you comfortable as you run, exercise, or do other tasks.
More gadgets like this:
here
Aoibox Pac-Man Pleated Skater Dress: another cute, comfortable dress for your parties and geeky events.
PacMan Couple Matching T-shirt: a cute set of 100% cotton Pac-Man t-shirts for couples.
Tiny Arcade Pac-Man Miniature Arcade Game: a tiny gaming system with sound and functional joystick. It has a back-lit header.
Namco Pac Man Air Hockey Table: a Pac-Man stylized air hockey table with waka-waka sound when you hit the sides of the table.
Namco Pac Man Pool Table: a 7′ pool table for your man cave. It comes with classic Pac-Man graphics all over it.
Pacman Arcade Party Home Cabaret Machine: comes with 13 classic games for you to try at your parties. It has a 19-inch LCD monitor.
Namco Pacman Party Cocktail Arcade Machine: comes with 13 vintage games you can play with friends. It has a 19″ LCD monitor. Pac-Man, Galaga '88, Mappy, Xevious, RollingThunder, Dragon Spirit, and Rally-X are some of the titles included.
Pac-Man Clock: an interactive retro arcade clock available in Pac-Man and Donkey Kong versions. It has a touchscreen display and handcrafted enclosure.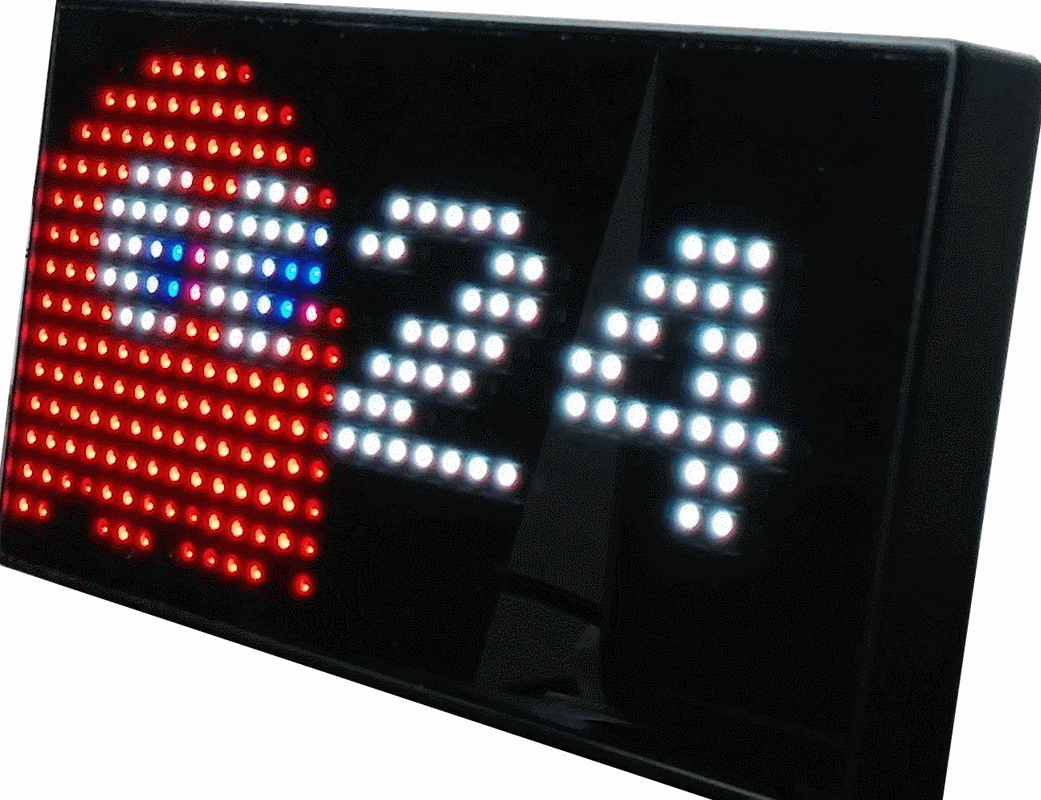 PAC-MAN LED Desk Clock: displays animated PAC-MAN and ghosts. The clock has 512 LEDs.
PacMan Ghost Light: a USB powered multi-color lamp for your place. It has 16 colors and stands 8″ tall.
PacMan LEGO LED Lamp: a Pac-Man LED lamp made entirely out of LEGO pieces. It stands over 9″ tall.
Pac-Man Wall Decals: these are great for decorating your gaming room or children's rooms. They are easy to apply, remove, and reuse.
PacMan Heat Change Mug: a mug with heat activated decal that comes to life as you pour in hot beverages.
PacMan Ice Cube Tray: want to make ice cubes that look like Pac-Man characters? This ice cube tray has you covered.
Pacman Ghost Pixel Bricks: a challenging construction kit for video game fanatics and LEGO addicts. An officially licensed kit.
SoundLogic XT Multicade 230 Miniature Arcade Game Machine: another compact gaming machine with a 2.4″ display that lets you play up to 4 hours. 230 classic titles are included.
Pac Man PnP TV Video Game: lets you play 12 classic arcade games on your TV (e.g. Pac-Man, Galaga, Pole Position, DigDug, Galaxian).
PAC-Man Keychain: now you can play this classic game anywhere and put it in your pocket when done.
Typhoon 32″ LED Arcade Game Cabinet: lets you play various classic games on a wide-angle gaming monitor. It is made of moisture-resistant materials.
PacMan Complex: an activity center for your cats with hammock and shelves. Holds 62lbs per hammock and 85lbs per wooden piece.
PacMan LEGO Night Light: made out of about 1000 LEGO pieces. It has LEDs that are dimmable and remote controlled.
Pac-Man Motion Sensor LED Lamp: a portable light with a motion sensor. It has a warm white light and detection range of 3 meters.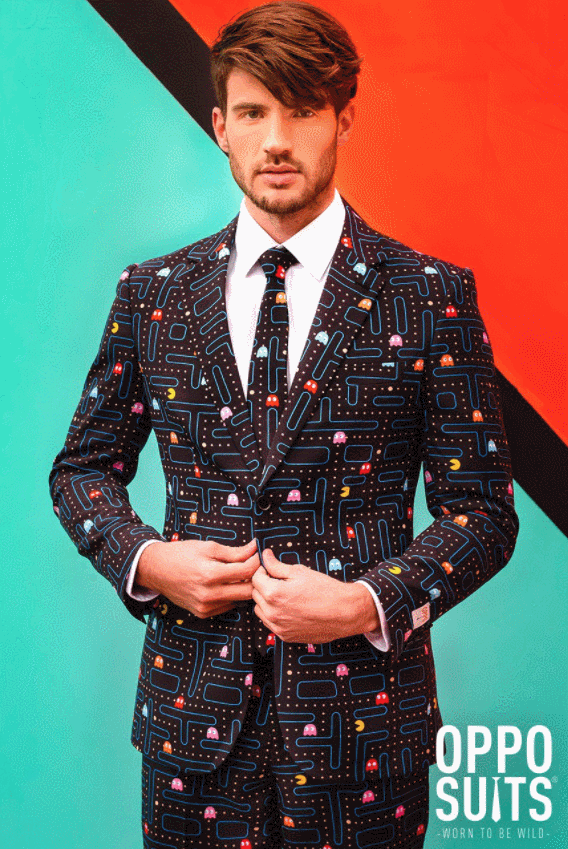 Pac-Man Suit: this is quite a head-turner. Comes with the characters from the game all over it.
1950's Style Retro Gamer Dress: a retro-style full circular skirt with Pac-Man game patterns. It is made from 100% cotton.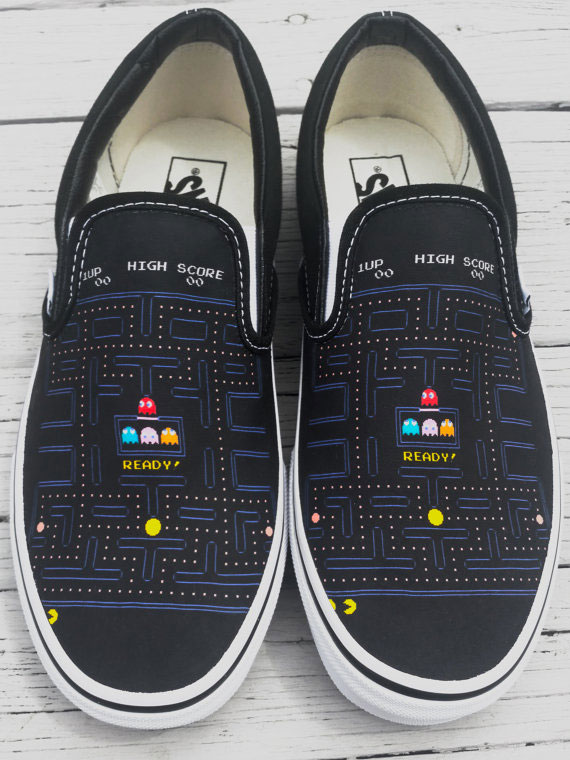 Pac-Man Maze Shoes: if you already have PacMan pants and suit, these shoes simply complete your set.
Pac Man Mini Pendant: we have covered plenty of cool geeky earrings, necklaces, and rings here in the past. This matte gold steel pendant should prove attractive to PacMan fans.
Pac-Man Earrings: handmade gold earrings for the special nerd in your life.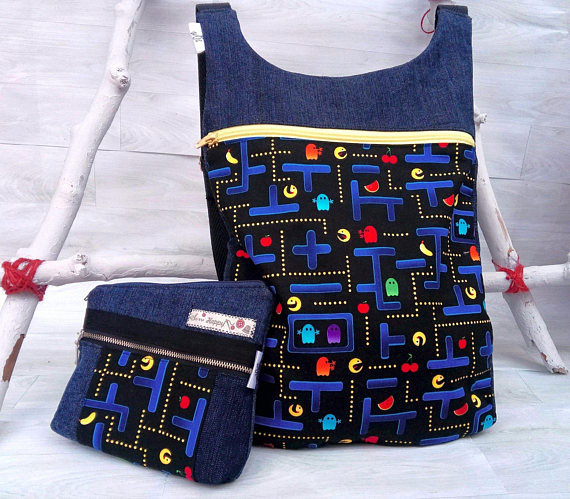 PacMan Bag: a lightweight bag that lets you carry your tablet, snacks, and everything in between.
PacMan Neck Tie: a cute little tie for your dog or cat. It easily slides onto your pet's collar.
Christmas Pac-Man Sweater: keeps your warm and comfortable on Christmas and any other winter day.
Have you found cooler Pac-Man gift ideas? Please share them here.
**Disclaimer: Our posts may feature aff links. As an Amazon Associate, we earn from qualifying purchases. Please read our disclaimer on how we fund this site.