Many of us are in love with dragons, and it didn't start with Game of Thrones either. Not surprisingly, plenty of products are inspired by these mythological creatures. Here are 30+ products that make a nice gift for dragon lovers:
More gadgets like this:
here
House of Targaryen Dragon Gemstone Ring: a pretty cool ring with a dragon head and gemstone of your choice. It is handcrafted from sterling silver 925.
Guardian At Your Gate: a dragon doorbell with a 3D printed body and LED push button.
Gothic Dragon duvet and pillow covers: a beautiful duvet and pillow covers that make your bedroom cooler instantly. This is a 100% cotton set.
3D Dragon Chess Set: a chess set with a beautiful glass chessboard with dragon pieces.
Design Toscano Warwickshire Dragon coffee table: a beautiful table hand-cast using crushed stone bonded with resin. The beast measures 35″ long.
Fantasy Master Dragon Blade: a dragon-themed fantasy blade with a 9 satin finished stainless steel blades along its tails. It also has a black wood stand.
Metal Dragon Sculpture: an impressive metal sculpture for your place. It took about 600 hours of work to complete.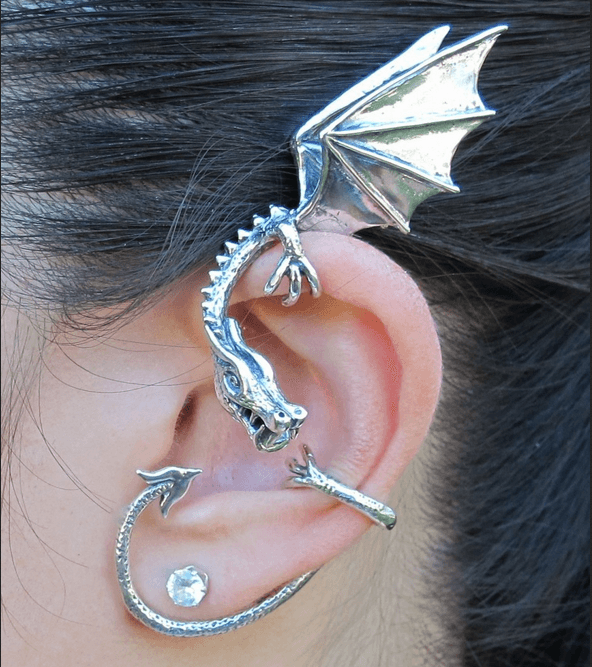 Elfin Dragon Ear Wrap: a silver ear wrap with a wire that wraps behind your ear like a Bluetooth headset. Great for cosplay and geek parties.
Game of Thrones Dragon Necklace: a beautiful piece of jewelry made from duraluminium. It can be adjusted in length.
Whiskey Barrel Sink with Dragon Faucet: a Jack Daniel's whiskey barrel enhanced with a dragon faucet and copper sink.
Dragon Bookends: white snow dragon bookends that keep your books organized and look cool doing it. They glow in the dark.
Shoulder Dragon: puts a polymer clay dragon on your shoulder. Great for cosplay and geek parties.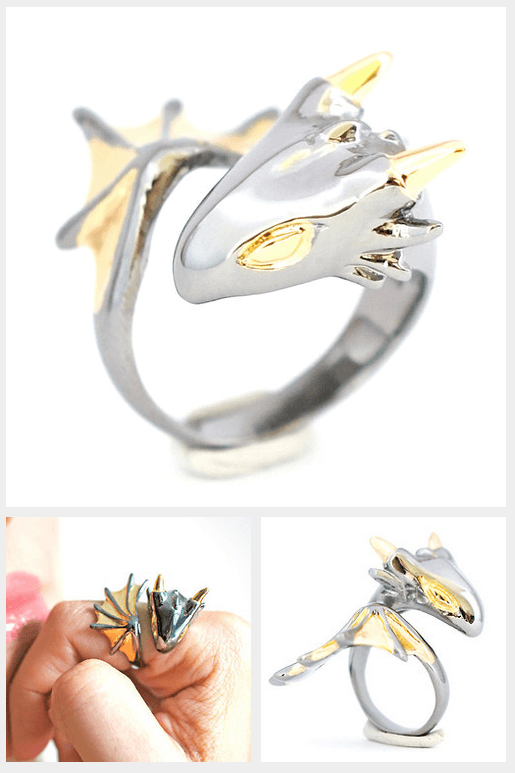 Black Knight Dragon Ring: made from 18K gold-plated and rhodium-plated brass, this puts a cute dragon around your finger.
Dragon Silver Ring: a stylish handmade Chinese dragon ring made from silver.
DarkHorn: a ball-jointed dragon measuring 15cm tall and 35cm long. It has 44 parts. It is available in multiple colors and wing/head styles.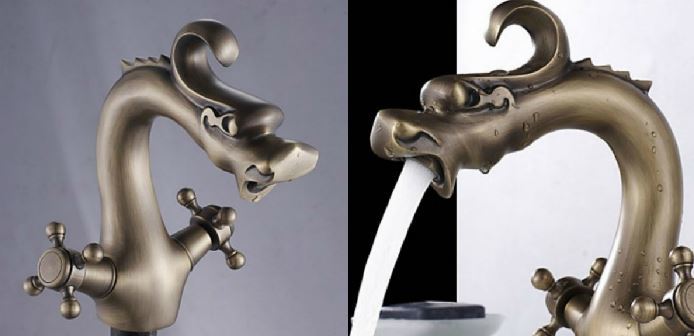 Dragon Faucet: a bathroom sink faucet with two pipes for cold and hot water. Gives your bathroom a cooler look and doesn't take a whole lot of time to install.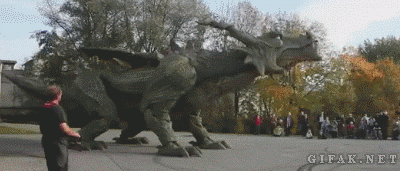 Robot Dragon: one of the largest walking robot dragons we have seen. Not super fast but still impressive.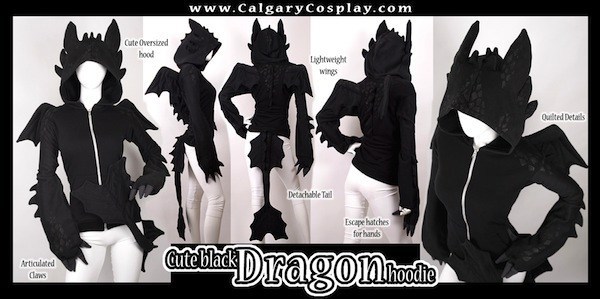 Dragon Hoodie: these are available by Calgary Cosplay. They have have handcrafted arms with escape claws and a Velcro detachable tail.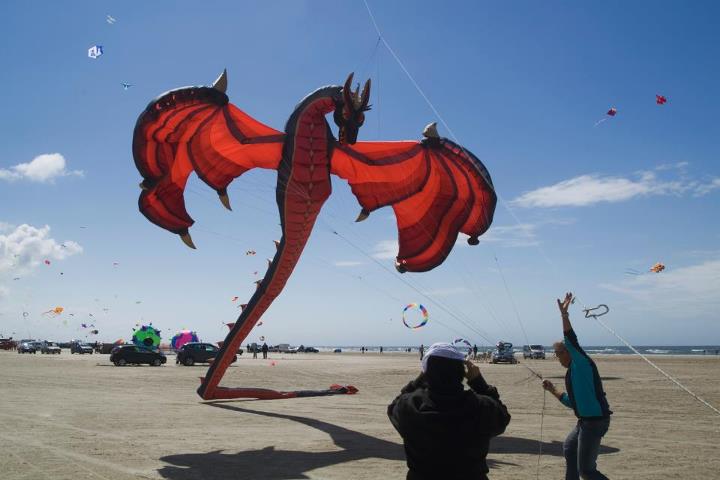 Dragon Kite: the name is pretty self-explanatory. It lets you fly your own dragon outside.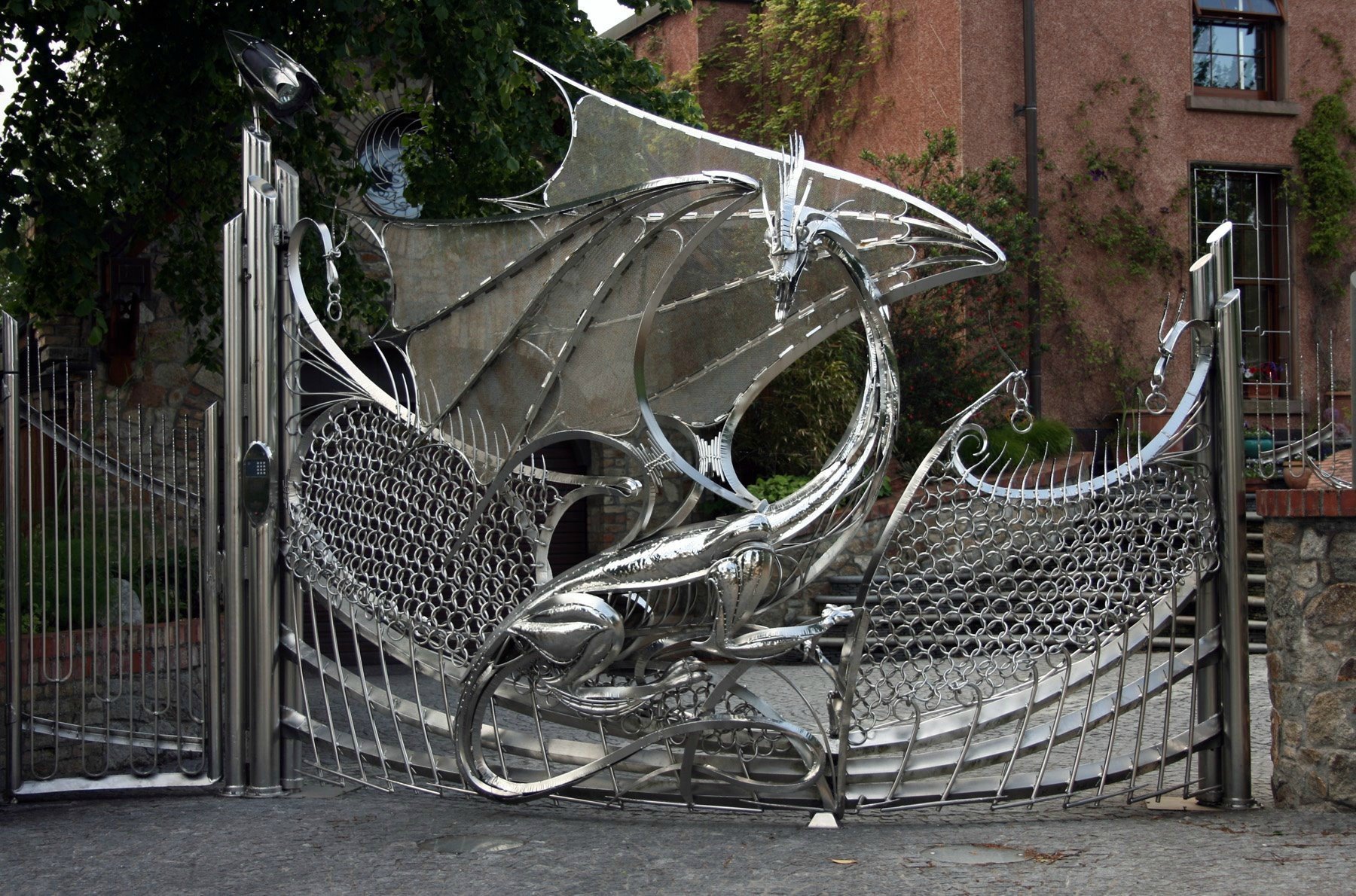 Dragon Gates: one of the coolest gates we have seen. These steel dragon gates belong to Harlech House in Goatstown, Dublin.
Giant Steampunk Dragon: an impressive sculpture by Kreatworks that measures 10.8′ tall by 9′ long by 10′ wide. It is constructed out of recycled metal and auto parts.
Dragon scrap metal sculpture: made from stainless steel and steel with hand grinder and welding machine. It stands .5m tall and 1 meter long.
Dragon Claw Smoking Pipe: a handmade wooden smoking pipe with a dragon claw. Measures 13 inches long.
Dragon Fire Pit: a 4′ x 16″ fire pit with 14 gauge metal at the bottom and 20 gauge on top.
Dragon Helmet V1: a dragon helmet inspired by Saint Seiya anime. It is made of cast urethane.
Dragon Smartphone Holder: has a mini dragon with wings to hold your smartphone.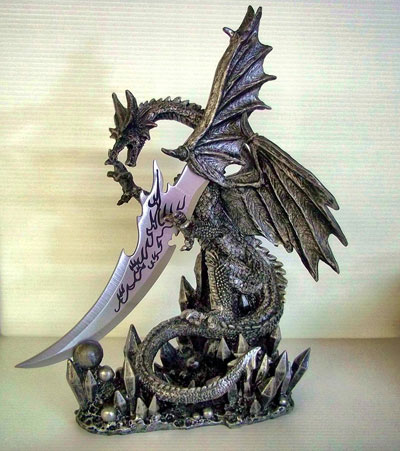 Dragon Dagger: a beautiful dragon figurine with a removable dagger with a stainless steel blade.
Draco Awaken lamp: a dragon table lamp that turns heads in any room. The lamp measures 20 inches tall with a detailed dragon wrapped around it.
Dragon Salt and Pepper Shaker Set: makes a fun kitchen gift for dragon lovers. These are handcrafted from cold cast resin.
Tin Dragon Wall Art: a metal wall art with hand cut pieces welded together individually and flame treated.
Mythical Dragon Wine Bottle Holder: a mini statue that holds your wine bottle. It is hand-crafted from cold cast resin.
Stay tuned as we will cover more gift ideas for dragon lovers here in the future.
**Disclaimer: Our posts may feature aff links. As an Amazon Associate, we earn from qualifying purchases. Please read our disclaimer on how we fund this site.