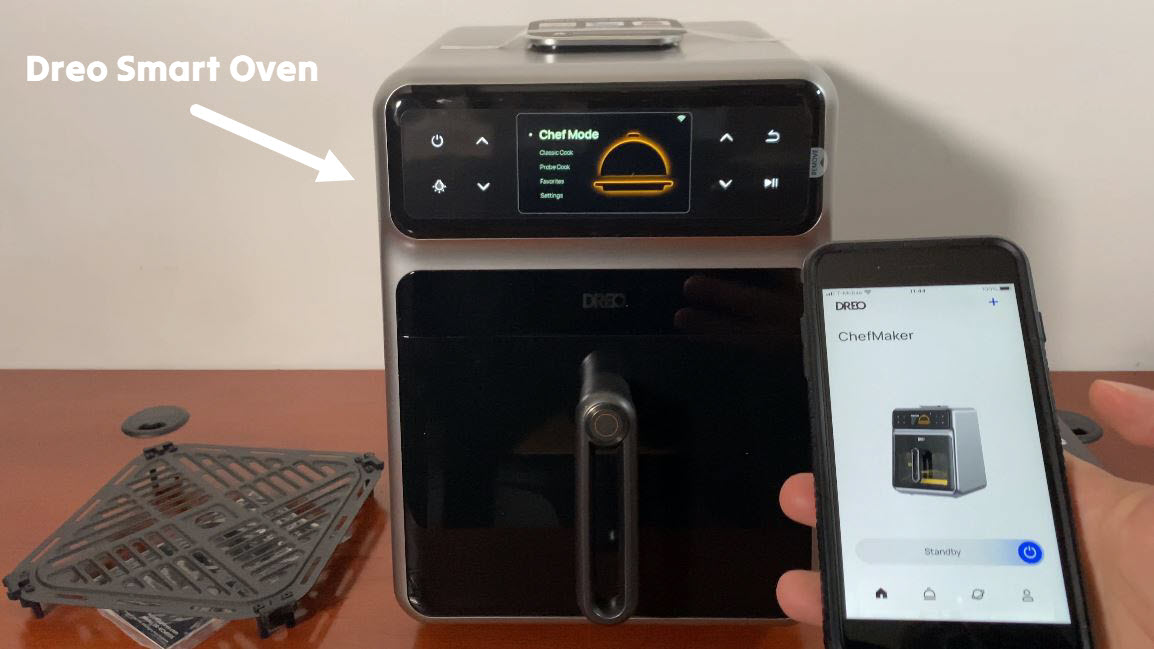 Dreo is a very familiar brand when it comes to tower fans, air purifiers, and air conditioners. When we heard about their Kickstarter for a smart oven, we were very curious to see what it had to offer. The Dreo ChefMaker Combi Fryer is not your average oven. It is not only gorgeous but quite smart. It has a touchscreen display that guides you along the way as you cook a meal. It has a probe that ensures your food reaches the level of doneness you desire. The good folks behind it were kind enough to send us a unit to review.
Our Dreo ChefMaker came neatly packaged. The device is about the size of a regular air fryer but has quite a lot of smart features. For starters, it comes with a meat probe, cooking tray, grill rack, and water container. It has a button that lets you turn on the internal light to see your food. The machine has 3 modes for you to choose from. The Chef Mode guides you as you prepare your food. You can use it to cook beef, seafood, pork, poultry, vegetables, and a whole lot more.
Connecting the machine to our iPhone was a breeze. Once we signed up for an account, we simply had to follow a couple of simple instructions to pair the machine. Everything you can do through the display can also be done with your smartphone. The app lets you save your favorite recipes and even send them to the machine. You can also turn on/off the light and stop the cooking process.
The probe is easy to attach and detach. You simply have to insert it into the thickest part of your meat, so the machine can track how well your food is cooking. For certain recipes, you will be able to choose your desired level of doneness before starting the cooking program. The ChefMaker has an atomization system to apply moisture to your food's surface and ensure even cooking. We used a FLIR thermal camera to read the temperature of the oven. As it turned out, this machine heats up rapidly at first to cook food evenly. You can monitor everything as it transitions to browning.
The ChefMaker lets you know when you need to add more water for your recipes. The Chef Mode has plenty of ingredient-based presets for you to choose from. The Classic Mode reminded us of regular multi-functional ovens as it has air fry, defrost, broil, bake, dehydrate, and other standard modes.
There is also a Probe Mode that lets you choose the temperature at which your meal is cooked. The companion app has step by step video guides that show you how to prepare delicious meals. You can follow the instructions and send each recipe to the unit with a tap. We prepared salmon steaks, kebabs and even a cake in this machine. While we are not experienced in cooking, the results we quite amazing.
The Dreo ChefMaker has a compact design considering all the appliances it replaces. It is easy to set up and clean. Once it is finished cooking, it warns you not to touch the probe. Under the settings page, you can access water pipe drain and descaling programs. You can also change the temperature unit.
Overall, we found the ChefMaker to be quite special. It is so easy to use, even for beginners. More experienced users can play around with probe temperature settings to cook their meat just how they like. The machine guides you along the way through its screen, so the chances of making a mistake are minimal. You can find the project on Kickstarter at this time.
Dreo ChefMaker Unboxing & Test: Smartest Oven Yet? 😎 Gadgetify
[where to get it][Kickstarter campaign]
**Disclaimer: Our posts may feature aff links. As an Amazon Associate, we earn from qualifying purchases. Please read our disclaimer on how we fund this site.