There are plenty of awesome Star Wars gadgets and gizmos on the market these days. If robots and drones are your thing, you should give these a look:
You may also want to see:
UBTECH First Order Stormtrooper Robot: an app smart robot with facial recognition, voice commands, and WiFi. Can recognize 3 faces and patrol any designated area in your home.
Star Wars Stormtrooper Robot Vacuum: not only looks cool but comes with advanced mapping, obstacle avoidance and enough suction power to get rid of dirt on the floor.
Darth Jader Humanoid Robot: a DIY humanoid robot with WiFi and motorized joints. It has a 3D printed head.
Samsung POWERbot Darth Vader Robot Vacuum: another smart robotic vacuum with advanced mapping and sensors for optimal cleaning and obstacle avoidance. It an be controlled via Amazon Alexa or Google Assistant.
Propel Star Wars Tie Advanced X1 Drone: can fly at speeds up to 35mph with 3 speed settings. Its app shows you how to fly safely. You can battle against up to 12 Star Wars quadcopters.
Star Wars Droid Inventor Kit: an educational kit with everything you need to build your own smart droid. It has missions and challenges kids can try on their smartphone.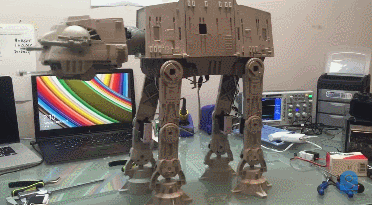 Imperial AT-AT Walker Robot: a cute DIY robot that can walk, shake its paw, move its head and perform other tricks. It has an EZ-B v4 robot controller inside.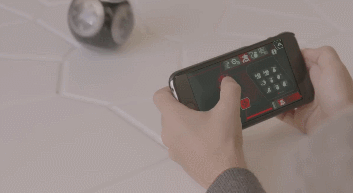 BB-9E Droid: a smartphone controlled droid with realistic movement and holographic simulation. It can interact with other Sphero robots.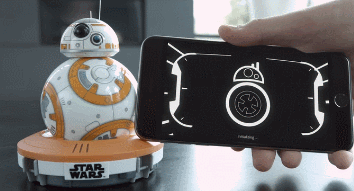 Star Wars BB-8 Robot: a cute little droid with a tough, waterproof polycarbonate shell. It can be controlled with the Force Band via gestures.
Sphero R2-Q5: a Bluetooth smart droid with realistic movement, LEDs, speaker, and remote control functions.
Life-size BB-8 Robot: a fully functional life-size BB-8 with a hamster drive system and parts from ServoCity and Vex Robotics.
Star Wars 74-Z Speeder Bike Drone: a hand-painted smart drone with max speed of 35 mph. It has a reverse propulsion design, auto take-off/landing, LED directional lights, and other convenient features.
T-65 X-Wing Starfighter Quadcopter: yet another drone you can use to combat against 12 Star Wars quadcopters. The app lets you create virtual events and track your stats.
Air Hogs Millennium Falcon XL Drone: this Millennium Falcon Drone measures 27″ x 20″. It has a range of over 250ft. It has lights and sounds from the movie franchise.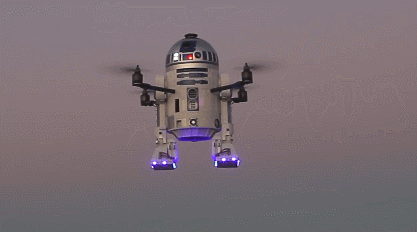 R2-D2 Quadcopter: it has a GPS autopilot navigation system, articulating dome, LED lights, and a speaker box. It has a camera installed into its eye.
Death Star Drone: FliteTest built and tested this giant Death Star drone a while back. Not the most agile but does look cool.
Juuk Smart Gaming Drone: a cool flying machine that lets you engage in Jedi training. It tracks, aims, and fires a spot beam. You score points by blocking the beam using a lightsaber.
RC Tie Fighter Plane: comes with ducted propellers, crash resistant structure, and a 2.4GHz controller. It has a flying range of 250 feet.
Air Hogs TIE Fighter Drone: comes with gyro-stabilization, 4-channel control, and 2.4GHz. It has a battle tracking system and authentic lights and sounds.
Star Wars Infrared RC Toys: you get RC Millennium Falcon, X-wing Starfighter, and TIE fighter toys to play with. You can control up to 3 of them at once.
Have you found cooler Star Wars drones and robots? Please share them here.
**Disclaimer: Our posts may feature aff links. As an Amazon Associate, we earn from qualifying purchases. Please read our disclaimer on how we fund this site.