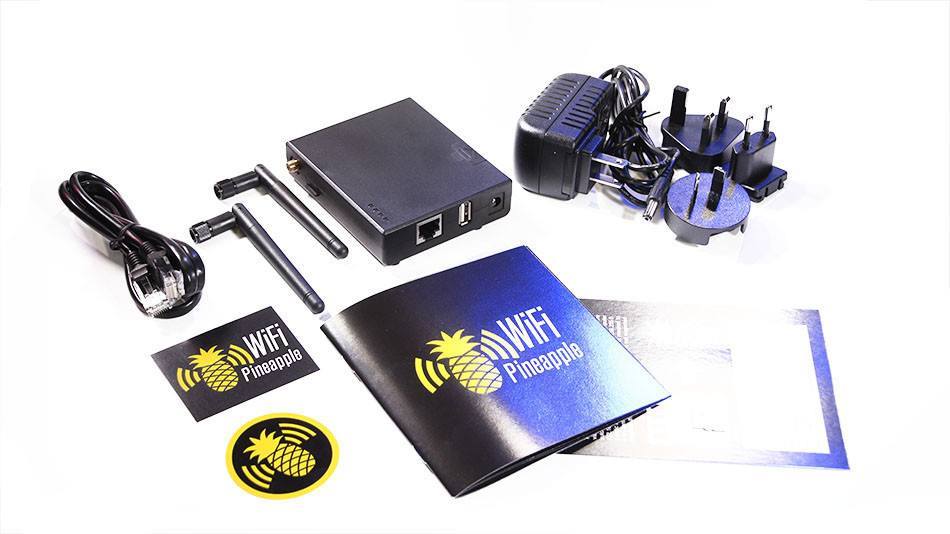 More gadgets like this:
here
Is your wireless network secure? You may not care about that but many businesses do. That's why network engineers and security professionals make big bucks helping out businesses. Whether you want to learn network security tricks or perform penetration testing, WiFi Pineapple Mark V can help. It has dual unlocked high gain radios and twice the RAM/ROM of the previous generation. The memory is expandable by Micro SD.
The device has a simple user interface and offers over the air downloads for enhancements. Its bootloader-based recovery web interface makes the device almost unbrickable. The WiFi Pineapple Mark V supports over 300 USB Mobile Broadband modems, tunneling over SSH and VPN, passive monitor modes with intelligence logging, mesh networking capabilities.It includes these Pentest packages:
aircrack-ng, dsniff, easy-creds, ettercap, hping3, httptunnel, karma, kismet, macchanger, mdk3, ngrep, nmap, nodogsplash captive portal, privoxy, ptunnel, snort, sslsniff, sslstrip, ssltunnel, stunnel, tcpdump, tor, and reaver
Here are the specifications:
CPU: 400 MHz MIPS Atheros AR9331 SoC
Memory: 16 MB ROM, 64 MB DDR2 RAM
Disk: Micro SD support up to 32 GB, FAT or EXT, 2 GB Included
Mode Select: 5 DIP Switches – 2 System, 3 User configurable
Wireless: Atheros AR9331 IEEE 802.11 b/g/n + Realtek RTL8187 IEEE 802.11 b/g
Ports: 10/100 Ethernet, USB 2.0
This powerful network hacking tool is available for $99 at the time of this writing. This is a useful tool for network security professionals.
[via]
Disclaimer: *Our articles may contain affiliate links. Please read our disclaimer on how we fund this site. As an Amazon Associate, we earn from qualifying purchases.