We had the pleasure of reviewing the Chessnut Air chessboard a few months ago. It is a gorgeous connected chessboard that lets you play on Chess.com and Lichess. It also supports Chess960. It comes with full piece recognition, so the board knows which piece you are moving. The good people behind it were kind enough to send us the Chessnut Pro. It is a giant smart chessboard with all the great features we loved in the original Chessnut board.
This gorgeous wooden board measures 21.6 x 21.6 inches. The size reminded us of the DGT boards that are used at serious tournaments but this board is much smarter. It comes with full app connectivity, so you can play on your favorite platform (e.g. Lichess) on a real board. Third party software and apps such as Arena and White Pawn are also supported.
The board ships with gorgeous smart pieces. Just like many other smart chessboards on the market, Chessnut Pro shows the moves with LEDs but they are hidden, so you won't even notice them when you are thinking on a move.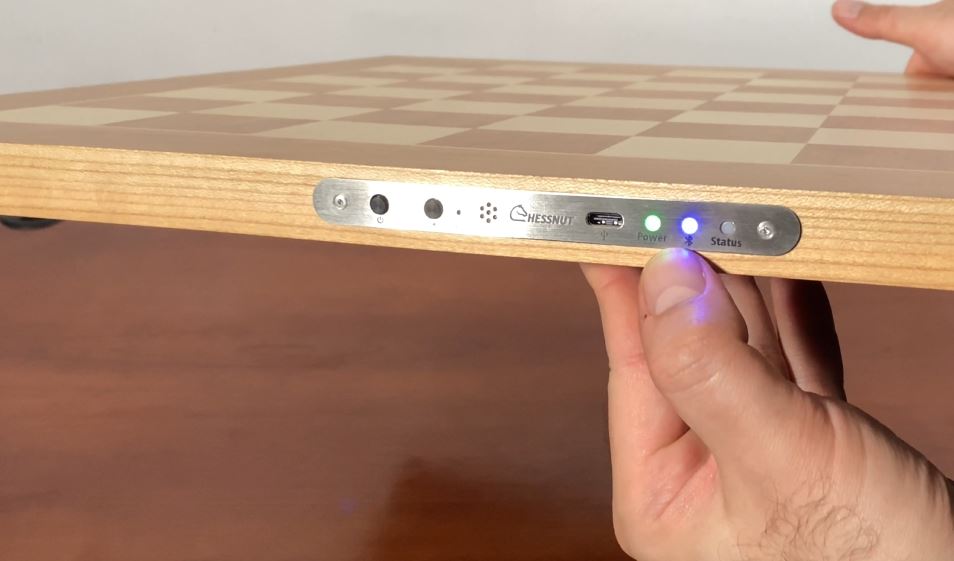 Once you get the board, you should connect it to a power source via USB-C to fully charge it. Ours already was close to fully charged when we received it. Connecting the board to a smartphone or tablet is pretty seamless. You simply have to hold a button, wait for the blue light to start blinking, then use the app to connect it. Once done, you can choose what you want to do with the board (whether it is studying, playing online or against Chessnut's AI which has 8 levels).
The best part is you don't have to use the official app to play on this board. Apps such as WhitePawn can connect to this board via Bluetooth pretty quickly. Graham O'Neill's website has plenty of useful information about various boards and how you can connect them to your favorite software. We used that to figure out how to connect the board to Arena.
If Arena is not something you are used to, you can simply download the Chessnut program for Mac or Windows to play on your desktop computer. It has a familiar interface if you have used the official app, so you can change level, customize time & increment settings, and a whole lot more.
During our tests, we decided to play a game between AIs on both our Chessnut Air and Pro boards. You can use the same app or different apps to experiment. In our case, we used WhitePawn's Stockfish engine. Once the games were finished, we exported them to analyze and find inaccuracies and mistakes. We also had a chance to compare this board to a DGT eBoard. They are very similar in size, so both are great for tournament play. The Chessnut Pro is smarter and much more versatile right out of the box. It is also supported by a variety of apps and platforms, so you can get started much faster.
Overall, we found the Chessnut Pro to be quite an incredible smart chessboard. It is not as portable as its smaller sibling but just as capable. It looks like a regular luxury wooden chessboard but has a ton of connectivity options, allowing you to play on your phone, computer, or online. Best of all, if you have set up the app already for the smaller model, you can use it with the new board to get started faster.
Chessnut Air vs. Chessnut Pro Smart Chessboard ⭐ Gadgetify
*Editor's note: we were provided a sample to complete this review.
**Disclaimer: Our posts may feature aff links. As an Amazon Associate, we earn from qualifying purchases. Please read our disclaimer on how we fund this site.