In the past few months, we have covered plenty of cool rings and earrings for geeks. If pendants and necklaces are your thing, you should give these a look:
You may also want to see:
Star Wars BB-8 Droid Pendant: a kinetic necklace available with a 16 to 24 inch chain. Each of these is handmade.
Good Bye Old Friend Star Trek Necklace: a cute gift idea for Trekkies. It is available in white gold, yellow gold, platinum and sterling silver.
Doctor Who TARDIS Locket: opens to reveal a bright blue sapphire. The locket is available in 20mm and 15mm versions.
Starship Enterprising Kinetic Pendant: another Star Trek pendant made with sterling silver with Topaz. You can order it with other materials or stones.
True Hero Pendant in Diamonds: comes with white diamonds on the side and black diamonds on the face. Available in white and yellow gold.
Death Star Pendant: an under construction Death Star pendant. It is handmade in sterling silver.
Droid Locket: a Star Wars pendant by Paul Michael. It is available in Palladium, Platinum, Silver, and other materials.
Trainer's Pendant: for Pokemon fans. It has a half moon Ruby on top and half moon cubic Zirconia on the bottom.
Dalek Pendant: yet another handmade necklace for Doctor Who fans. Made of sterling silver with sapphire.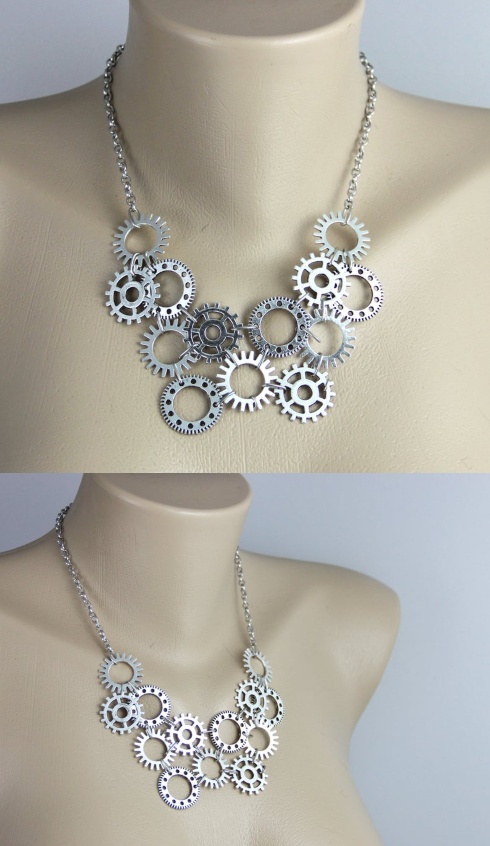 Inner Workings: a steampunk style necklace for engineering geeks. It is a handmade item.
Dopamine Serotonin Acetylcholine – Molecule Necklace: a sterling silver necklace for scientists. The charms are .75 to 1 inch long.
Circuit Board Rainbow Necklace: a sterling silver necklace soldered by hands. Makes a nice gift for computer geeks.
Fibonacci's Golden Spiral Pendant: This pendant by Alchemy of England makes a fun gift for math nerds.
8-bit Skull Pendant: this was inspired by pixelated graphics in 8-bit video games.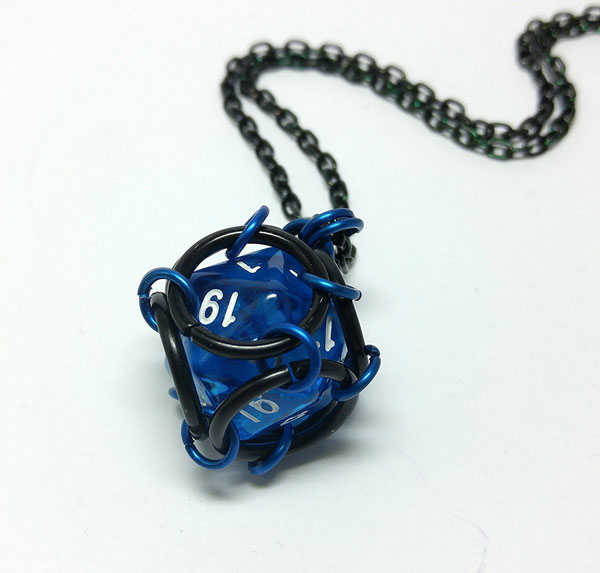 Dice Necklace: a 20-sided dice with black and blue cage. The pendant measures 1″ in diameter.
Bat'leth Sword Necklace: another Star Trek inspired necklace from Paul Michael. Available in various metals.
Zelda Hyrule Crest Pendant Necklace: a sterling silver necklace with ruby gemstone. It has a 18 inch chain.
Legend of Zelda Hyrule Crest Necklace: great for cosplay and geeky parties. It is made of 925 sterling silver.
DNA Pendulum Gold Pendant: a solid DNA pendant measuring 2″ long and 9mm in diameter. Great choice for scientists.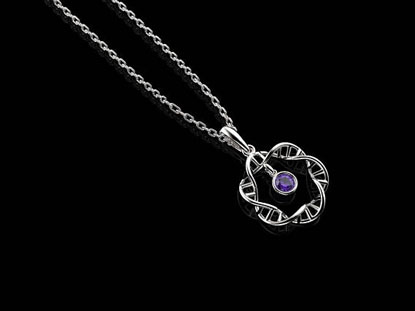 DNA Pendant: another one for scientists in your life. It comes with a 5mm gemstone of your choice.
Forziani Big Skull CZ Pendant: a 316L stainless steel pendant necklace that puts a skull around your neck.
Doctor Who Wibbly Wobbly Timey Wimey Pendant Necklace: a pretty affordable necklace for your geeky parties. It is officially licensed.
Endorphin Molecular Choker Necklace: inspired by the structure of human beta-endorphin. Each of the amino acids were made as a separate link.
Rocket Ship Necklace: a geeky charm with a gemstone cast in sterling silver. It has a 3mm gemstone.
Dragon Statement Necklace: so dragons are your thing? You should give this awesome statement necklace a look. The dragon has a wingspan of 5.5 inches.
Glow In the Dark Dragon Necklace: a bronze dragon pendant that shines at night. It glows after being charged with a light source for a while.
Alien Stainless Steel Necklace: a xenomorph necklace for geeks in your life. It is made of 316L stainless steel.
Curled Dragon Pendant with Gemstone: another beautiful pendant for dragon lovers. The dragon encircles an amethyst or citrine.
Flying Heart Necklace: a steampunk mechanical flying heart. It has various watch parts, including gears, levers, and winders. Goes great with your Victorian costume.
Anatomical Heart Pendant Necklace: available in silver and bronze. Has a 24 inch chain.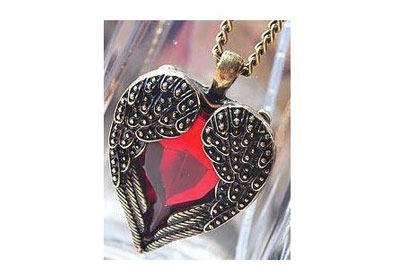 Heart Wing Necklace: another romantic necklace idea. The drop measures 6x2cm.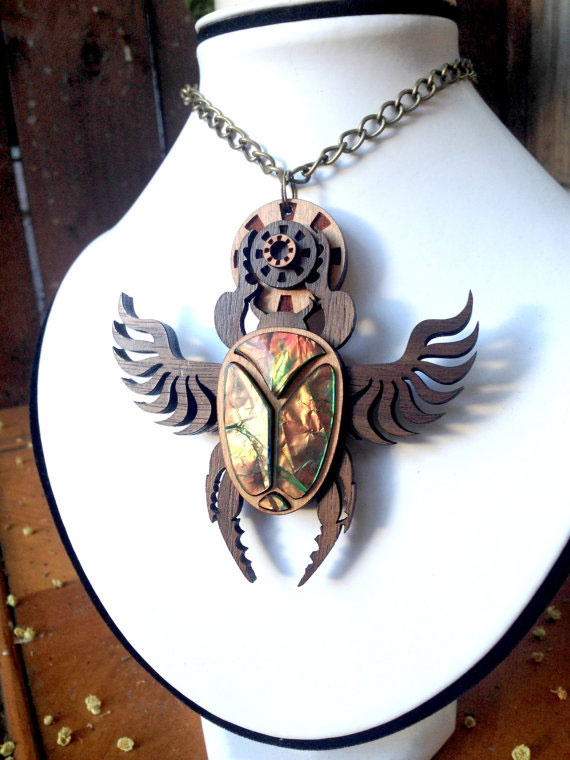 Kheper Scarab Statement Necklace: should prove attractive to those of you fascinated with Egyptian mythology. It is made out of "laser cut walnut and cherry with inset laser cut faceted resin with shimmering orange and green tones."
Twinkling LED Dragonfly Necklace: has 16 LED lights in its wings connected to 12 solar cells. It turns heads, especially at night.
RoboCat Necklace: puts a cute cat face around your neck. These can be cast in various materials.
Zelda Boss Key Pendant: has a solid 10k rose gold pendant with a 14 rose gold chain. Available in 16 or 18 inches.
Pac Man Mini Pendant: a cute little pendant for gamers and PAC-MAN lovers.
Sun God Eyes Pendant: another handmade pendant with a unique design that turns heads.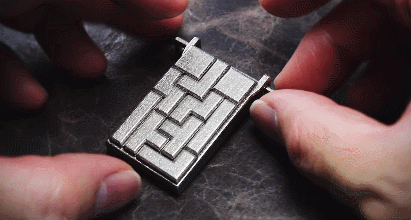 Tetrominoes Puzzle Pendant: made of multiple parts, this pendant works like a puzzle. It has steel and 3D printed components.
Galactica Pendant: a cloisonne enamel pendant in sterling silver encrusted with rubies, spinels, sapphires. Looks quite gorgeous.
Eye of Horus pendant: another handmade piece. It is made by wrapping copper wire and yellow goldstone bead.
Stay tuned as we will cover even more geeky necklaces and pendants here in the near future.
**Disclaimer: Our posts may feature aff links. As an Amazon Associate, we earn from qualifying purchases. Please read our disclaimer on how we fund this site.