Another day, another list of gadgets that you can pick up for the holiday season. One thing that you won't run out of is options as 2009 was a busy year for gadget manufacturers. If you have seen the first part of this series, you probably know what to expect. So with that in mind, here are 10 more gadgets that you should consider picking up for this holiday season:
Trending futuristic gadgets & concepts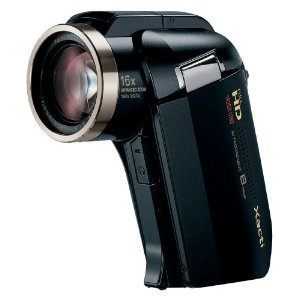 Sanyo VPC 2000 HDa Camcorder: a true gem of a camcorder. It's also a camera as well, capable of taking pictures with resolution up to 8MP. It's super portable and has a quite unique design.
MSI CR600-017US 16-Inch Laptop: for a blu-ray capable laptop that comes with 4 GB RAM and pretty strong CPU, this laptop is pretty cheap. And you know you are getting a good quality notebook from MSI.

Peek Pronto Mobile Messaging Device with Lifetime Service: the ultimate texting service for those who don't want to pay a cent for their text messages. Lifetime of service makes it possible for you to text to your heart's desire.

LG BD 390 Network Blu-ray Disc Player: a wireless blu-ray player that makes it easy to watch YouTube videos and BD Live content on your HDTV. As long as you have a home network, you are set.
HP DreamScreen 130 13-Inch Wireless Connected Screen: lets you control your digital content (music, audio, video) easily on your device. It comes with wireless capability to let you control your network content on the device as well.
Monster Power HD PowerCenter 850 with Green Power: if you happen to have a lot of gadgets at home, you may be consuming energy even when you think they are turned off. With this strip, you can save money on your electricity bill without changing your lifestyle much.

T-Mobile G1 Phone with Google: the classic G1 phone is a decent Android phone, and it certainly is a good alternative to iPhone. Don't get me wrong. It's not an iPhone killer by itself, but if you are on T-Mobile, it's a great phone to own.
Western Digital WD TV Live: Play Full HD 1080p video, music and photos on your HD TV. It's network capable, so you can play internet content as well.

Netgear Rangemax WNDR3700 Router: one of the better wireless N routers on the market. If you are looking for a reliable, secure wireless router to start your home network, this one comes in handy.

Nintendo Wii: Nintendo Wii could have been a contender for the top spot just a year ago. But not so this year. Still, it's a great gadget to pick up if you haven't tried it. It makes a great gift as well.
Stay tuned for the 3rd part of this serious. Don't forget to check the first part as well.
**Disclaimer: Our posts may feature aff links. As an Amazon Associate, we earn from qualifying purchases. Please read our disclaimer on how we fund this site.