So you are preparing for the geekiest Christmas / holiday season ever? We have already covered plenty of gift ideas for that. These geeky Christmas ornaments and tree toppers are also worth a look:
You may also want to see:
Death Star Tree Topper: has lights and sounds plus a convenient remote control. Designed by Orville Wilson.
Hallmark Star Wars Tie Fighter Sound Ornament: this handcrafted Tie Fighter has light and sound for a more interactive experience.
Stormtrooper Peekbuster Motion-Activated Sound Christmas Ornament: looks cool and can detect motion to alert the kids to stop peeking at presents.
Hallmark Keepsake Star Trek USS Franklin: this ship from Star Trek Beyond that sits on your tree and lights it up.
U.S.S. Enterprise NCC-1701 from Hallmark: not only makes your tree look cooler but lights up at the touch of a button.
Dragon Tree Topper: a hand blown glass ornament made from borosilicate crystal and 24k gold.
Gringotts Wizarding Bank Christmas Ornament: made for Harry Potter fans. It has the dragon on top of the bank. You can attach lights to it too.
Marvel Guardians of the Galaxy Groot Musical Ornament: this plastic ornament plays music when you press its button.
R2-D2 Ornament: a Star Wars droid for your Christmas tree. Another cool Hallmark product.
Darth Vader Tree Topper: an officially-licensed Star Wars tree topper operated using 2 AAA batteries. It has a LED lightsaber.
Value of Pi: a handmade ceramic ornament for math geeks you can buy on Etsy.
3d Printed D20 Tree Topper: a handmade tree topper for gamers and geeks. It is hollow, so you can combine it with lights for cool effects.
Facehugger Alien Christmas Pickle Ornament: a hand-blown glass item made using emerald green tubing topped with peppermint swirl.
Poké Ball Glass ornament set: comes with 4 Poke balls, each measuring 3″ in diameter.
Thor – Ragnarok holiday ornament: made for fans of the Avengers and Thor. Measures 3.5 x 4.5 x 2 inches.
Poop Emoji ornament: one of the funniest emojis around is now available for your Christmas tree.
Solar System Ornaments: handmade solar system planets for your trees. 9 planetary bodies are available.
Tree Buddees Donald Trump Christmas ornament: can't get enough of President Trump for whatever reason. This lets you display him on your tree.
Dragon Statue Skull: a black coal skull and dragon holiday ornament from Design Toscano. Adds that extra mystical touch to your decorations.
Pewter Dragon Gothic holiday decoration: love dragons? You should give this rad dragon ornament a look.
Solar Cross Ornament: a hand cast and hand-finished item that gives your tree a unique look.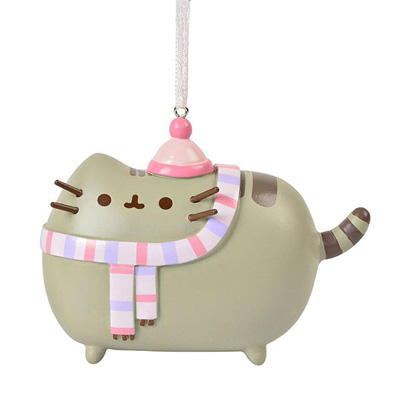 Pusheen: puts the famous, cute cat with pink hat and scarf on your tree.
Chemistry ornaments: comes with a flask, beaker, and test tube with a 3.5-inch ribbon.
Computer Fix Geek holiday ornament: great for software engineers, computer geeks, and everyone in between.
Circuit Board Ornament: a Christmas ornament for engineers and geeks.
Tardis Plush Toy: a handmade gift for Doctor Who fans made of blue wool.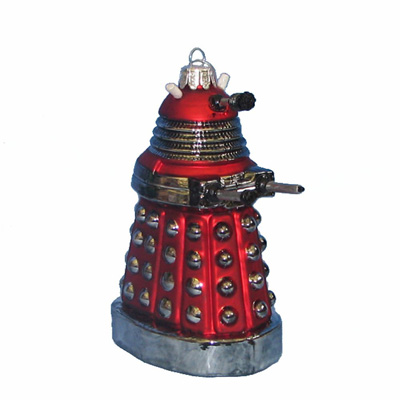 Dalek Robot: another Christmas tree ornament for Doctor Who fans. It is an officially-licensed items.
Turkey Platter glass blown ornament: a hand blown turkey on a shiny silver plate for your tree.
Darth Vader ornament: a black frosted glass ornament inspired by Star Wars.
Imperial Tree ornaments: the kit has 6 tree ornaments made of tin. You get 5 Stormtroopers and a Death Star.
Tardis Timelord Ornament: a silver-plated blue enamel Tardis and clock charm with an adjustable ornament hook for Doctor Who fans.
TARDIS Tree Topper: a tree topper for Doctor Who fans with light. It is an officially-licensed item.
Pregnant Expecting Family ornament: appropriate for families who are expecting a new member soon.
Yodeling Pickle Christmas Ornament: many of us know the Christmas pickle's history. This motion activated pickle keeps kids from snooping.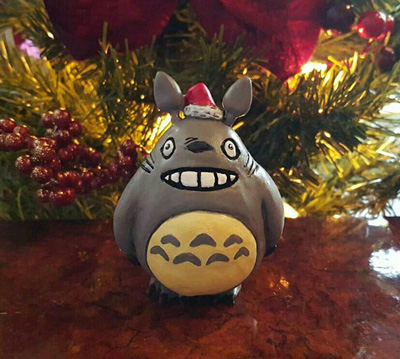 Totoro: a handmade Christmas ornament that brings this fun character into your tree.
Super Mario Ornament: this set has 12 mini ornaments representing Super Mario characters.
Have you found cooler Christmas ornaments? Please share them here.
**Disclaimer: Our posts may feature aff links. As an Amazon Associate, we earn from qualifying purchases. Please read our disclaimer on how we fund this site.